Ohhh...It's one of those dramatic headlines that makes a big, bold statement to get your attention.
But could it be true?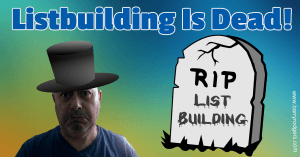 After all, every training you will ever see in the online marketing space tells you - very clearly - to go build lists.
Emails have been around since the internet began and are still the prime way for people to message each other. It doesn't matter how many apps you have on your smartphones, everybody still reads their emails and sends emails.
It is also still the primary route that businesses take to keep customers up to date (despite Gmail's best efforts to mess with this).
So what the dickens am I on about..."Listbuilding is dead"? Am I talking bollocks?
No. Email marketing is alive, well & thriving but times have changed. We, as marketers, need to spot those changes and incorporate them into our campaigns.
With the growth of social media, people are active on different platforms. We need to engage people through multiple channels if we want to be heard.
So instead of thinking about "list building", think instead about "audience building".
The best way to speak directly to your audience and generate sales will still be through personal emails. However, there are other tools out there now that will help your subscribers get to "know, like and trust" you.
Your business should include multiple access points...A blog, a Facebook page as a minimum and other social media if you like...as well as your landing pages. By engaging your audience on different levels, not only are you more able to get your message across, but - more importantly - you are better able to know and understand who your audience are and what they want.
Newer tools, like live streaming, ramp up the connections even more.
So how does this work? Can this sort of engagement increase your income?
Absolutely. This year, my good friend, Andy Brocklehurst, has pruned his lists by thousands. At the same time he has been actively building audience engagement through is blog "vlog" posts, on (the now defunct) Blab and on Facebook. It is no co-incidence that he now finds himself at the top of many leaderboards and is making a shedload of extra cash in prize money every month.
Andy tests and tests and tests. He often revisits things that others say are finished and proves them wrong. When he finds something that helps him, he often shares the method and releases a product to help others replicate it.
We have actually joined up to make this offer - Something simple that you can use to extend your Facebook post reach and get more eyeballs on your Facebook page..
So, the takeaway is...Continue to build your lists but think of the people on them as your audience - real people - and engage with them wherever you can.