In this post, I am going to clear up something that many people get confused about...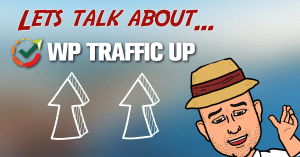 First of all...if you do not have some way of engaging with visitors who are leaving your sites, you are missing a big opportunity.
I have built great lists that way and also driven traffic to sales pages, affiliate links, CPA offers...all kinds of pages. You see, when folks are leaving anyway, it doesn't hurt to present them with a reason to take a look at something.
It could be as simple as asking them to subscribe to your blog or find your page on Facebook.
In this video, I will be discussing the difference between an exit pop and an exit splash and how WP Traffic Up works to blend the two together...
So, have a look at the video and you will also discover a way to see my full review, demo and bonuses...