Proported to be "The best membership site technology on Earth", MemberHub is not short of hype and you will probably get a few hundred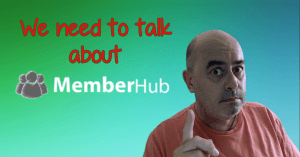 emails over the course of the next few days screaming about it.
So, when someone bulls a product up to such an extent, I turn off from the bullshittery and try and get behind the hype to discover if, indeed, it is any good at all.
I made a video giving my honest thoughts about MemberHub.
I do like it and I am going to use it but it may not be for everyone...You have to watch the video to get an understanding of whether it is right for you or not.
If it is, I have a bonus pack which I think will really help you use MemberHub to make some money right from Day 1.
Anyway... Here is my video review...