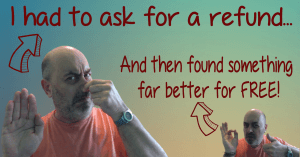 I bought a special 100 site lifetime deal for a WordPress central management dashboard product for $47 recently. It was a "special" flash sale through an affiliate – normally they charge $27/month for that (or $17 a month for 50 sites and $47 a month for unlimited sites – I got that wrong in the video).
I spent a good deal of time adding my sites into the dashboard to begin with so I was pretty dismayed when I logged in a couple of days later to find it no longer worked. I added a ticket and they fixed something and it worked again…and the plug-in got updated.
A few days later another bug stopped it from working properly…another ticket…another plug-in update and it started working again. I started to feel like a beta tester.
Then…for no reason whatsoever…a pop up started firing all the time. You will have to watch the video to see what that was all about and why it tipped me over the edge and take the unusual step (for me) to request a refund.
But…I did find something better and for free..So I will also share that with you in the video….
Like this? Share it with others...