By 2013, it is estimated that more people will be visiting websites on mobile devices rather than PCs yet statistics show that only 1% of all .com, .net and .org domains currently have a mobile optimized version of their site. Hmmm…anyone see an opportunity?
People don't mess around…if they visit your site on a smart phone and can't find what they want, they are off somewhere else, buddy!
Creating mobile optimized versions of websites is a service that every business needs and now there is a way that you can supply that need in about 30 minutes and pocket anywhere up to $497 for the service.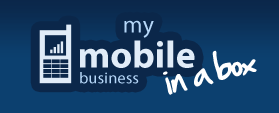 "My Mobile Business in a Box" is just that. A real business in a box. You get everything you need to start providing this in-demand service for businesses. You get a fantastic mobile optimized template which is easily customized, 14 step-by-step videos which will teach you everything from finding eager customers and how to sell the service to customizing the template and 3 text modules which back the training up. You also get some valuable bonuses too.
So, rather than buying yet another push-button, loophole-exploiting gizmo…..This is an opportunity to get your own real business in a box which you can earn a good sustainable income from, starting immediately.
If you charge an average of $200 and you just found 5 customers a week…that would be $1000 a week…and did I mention that each site would take you no more than 30 minutes to make.
This is a market where demand is increasing all the time..how many could you sell to the businesses in your town?
Take a look at the thread here where some of the 800+ users of this product have left a review.
Heck, it's worth the price of the course and template just to make an mobile version of your own sites.
Hope that this inspires you and helps you to get out there and start getting some offline dollars rolling in!
Like this? Share it with others...