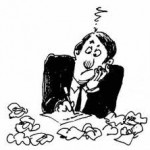 The ongoing development of search engine technology as well as changes to downgrade substandard content in search results are forcing webmasters to re-evaluate the quality of content they publish. They need to ask a pertinent question.
"What do I want an article to achieve?"
If the answer to that is to get traffic and a backlink from blasting it around article directories, think again. The traffic from article directories has reduced to a trickle at best and the only backlink  will be from a PR0 page which will be near-worthless (regardless of the site PR).
So, What is the answer?
Smart marketers will realise that there are three reasons to make sure that the content they put out is top class.
Firstly, if you want visitors to your site or blog to come back, bookmark you and recommend you to others, then there needs to be something on there that compels them to do so. Sadly, these days, many people forget that content should be primarily written with site visitors (that's humans like you & I) in mind rather than the search engine bots.
Secondly, to get really targeted traffic to a site from an article, the best way is for it to be syndicated. This means that bloggers, ezine publishers or webmasters with properties in a relevant niche will take and use th article for their readers. To do this they have to also publish the resource area where you have links back to your 'money site'. Guess what…people only want to take quality content that engages, informs and entertains.
Thirdly, and this is the shocker for many, search engines are becoming more sophisticated by the day. Panda and Farmer are well known roll-outs of improvements made to Google in 2011. If you think that these were isolated incidents you would be dead wrong. All search engine firms want to deliver a great quality search result for their clients. Algorithms are being adapted constantly to differentiate between good and bad content. Google, Bing, Yahoo and all of the thousands of others will always try to rank quality content above rubbish.
So why not just give them what they want?
Like this? Share it with others...