5iphon. The more I look at it the better it gets!
Sometimes, in this business, you come across something that just gets inside your head. This has happened to me twice this week. Once with an idea and again with 5iphon.
First was an idea for a massive offline/online training product. That will take months to develop properly.
The second was introduced to me almost by accident. I had to check one of my e-mail accounts for a subscription confirmation message and I happened to see a message from someone who doesn't mail out very often all about the success he was having with 5iphon. So I decided to see what he was up to…
Well. After looking at this product and service I was impressed but I decided not to bother with it. Reason being that you needed an account with either Aweber or GetResponse autoresponder services to make it work. I have accounts at other services and I really did not want another monthly bill to pay so I passed.
There was a problem, though. For the next 24 hours this system kept popping into my head. The potential is huge and it is a really simple system. – two things that go well together in my experience. The guy who told me about it had made some good money in the same afternoon as he started it up…so that was also impressive.
So, to test, I decided to set up a free GetResponse account (free up to he first 100 subscribers) and get started with 5iphon Hardcore
5iphon is a viral list building tool. The way it works is that the sales page becomes your sales page once you have referred 5 subscribers. After that you not only get subscribers aplenty…because the sales page is GOOD, but you get the first 5 subscribers that each of those people add too. So if you get 5 people to subscribe, you would end up with a list of 60.   See the power in that??
Not only that but when people upgrade from the free account to the paid account (a ton more features) then you get paid commissions too. Sweet, eh?
It doesn't end there either. Bryan Winters, the marketer behind this system, will give you a years worth of proven follow up mails to send to your new list. These mails contain a lot of free stuff which he hosts himself and paid offers which you just need to insert your affiliate link into to get the commissions. As a successful marketer and copywriter for over 10 years, you can bet that Bryan's mails will be opened, clicks and sales will happen. A fully integrated viral list building system.
You can get started for FREE. Yes FREE.
You will need either an Aweber or GetResponse account. I suggest GetResponse as it is totally free to sign up and get going with.
You can get a free GetResponse account here: GetResponse Link
To get started building your list 5x faster than normal with an irresistible offer Click on the image below: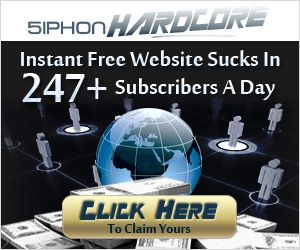 Like this? Share it with others...