I have noticed something quite profound...
All of the top earners in the online marketing community do something in common. If there is one thing that you need to have it's a curious mind with a sense of adventure.
Here's why.
All of the top marketers I know never stand still. They have methods that are working for them but they never rest on their laurels. They are constantly trying new things, test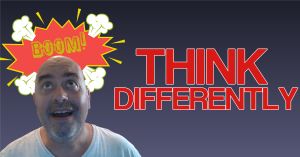 ing new traffic methods, improving their email delivery, improving their techniques.
This is where new products come from too. If you test stuff - even stuff that others may say is "dead" and not worth doing - you could hit gold. And if you hit gold you have a case study and a potential product on your hands...Andy Brocklehurst and I did that a while back and showed people how, using a "dead" system with a new system you could build a list and get paid doing it.
So what should you be thinking about?
There is no hard and fast rule except that we all stand on the shoulders of others. When you see someone having success with a particular method, by all means replicate it in your business and reap the results but also, at the same time, ask questions of it. How could it be better for your audience...your potential customers? What would give them more confidence to spend money with you?
Just by testing a few changes could get you better results. Also, do you know what?....When you start thinking this way, you often get a flash of genius.
Now I don't know where those "aha" moments come from. My religious friends could blame god or allah or whoever. My friends with a classical bent would cite the muses. Personally I just think that we are hardwired that way and that is the reason I am typing this on an incredible machine rather than carving it on a lump of stone as our forefathers would have done.
So the takeaway from this blog post is to use your mind like you would a parachute...it's no bloody use at all unless it's open.
To see how this can really make a difference, you should pick up a copy of Britt Malka's case study... The GAIN method.
Britt thought outside the box, pushed the envelope and stitched in time (I have run out of cliches). She looked at a problem and discovered a whiz-bang solution.
In this case study, not only does she show you her results...not only does she explain the psychology behind why it works...but she also goes through EXACTLY what you need to do to replicate her system.
This WILL inspire you. You can just replicate her method and it will work...or you can do as I am doing...I have already "thunk outside the box" even further on Britt's method and will be doing some tests of my own as well.