There are a lot of products out there that profess to unlock the secrets of getting lovely free traffic from You Tube.
Loads of products that will promise to teach you how to rank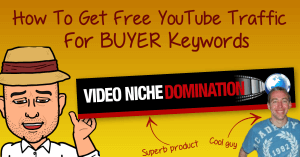 videos, how to get people clicking through to your offer and buying.
Most of these products are outdated, missing some important information or are so badly put together, they create more confusion than clarity.
Often they are built on one fluke video that ended up ranking and a whole $7 product was born!
They also tend to show you a case study where the actual keyword they rank the video for is either something that no-one ever would type into a search engine or is not a "buyer" type keyword. In other words, not much point in creating the video in the first place really.
So why am I promoting yet another "how to rank YouTube videos" training?
Good question. And if it wasn't for who put this training together, I wouldn't have even glanced at it.
BUT…The difference is that Adam and Paul are Video and, specifically, You Tube experts. They walk the walk and know what they are doing.
I shudder to think how much it would cost a company to have these guys as consultants to work their magic.
Also, Adam's profession is as an educator. He explains things in a way that is easy to follow. Paul is also a natural teacher. This is a superb training. It ticks all the boxes and is the only resource you will need it cracking the YouTube traffic code WITHOUT having to create a load of videos yourself and without spending a load of money.
One thing – the upsell has some software to help with the ranking and also, Adam's secret outsourcers list (worth it for that alone). Watch my video below to see inside the members area and get more information.
https://youtu.be/FzU_Eh9-UDg
Like this? Share it with others...