When folks get started in online sales and marketing, often they are doing so because they need more money. At that stage "starting a business" is not what they are thinking.

The wonderful thing about online marketing is that it is easy to have a go at to see if you enjoy it and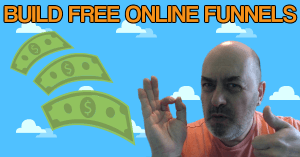 get some success before getting all grown up and starting a proper business out of it.

You still have to be able to create products and put professional listbuilding and sales funnels together though.

The good news is that it is easier than ever to do that. Just get a Click Funnels account for $97 a month (or $297 a month for all the tools) an Aweber account for $49 a month, a Go To Webinar account at $89 a month, Camtasia at $247 and you are good to go.

Whoa! Wait a sec....

Most folks don't want to invest hundreds of dollars a month before they know what they are doing or have tested the water for a while to see how it goes for them.

The other route is using free tools (or a combination of free and low cost toos). That used to be a complete nightmare, believe me. I was that soldier. Back when I got started most of my time was spent trying to get funnels together using free stuff and getting everything to work together.

Now, that has become a lot easier too but you need to know where to look and how to use these tools otherwise you will spend weeks searching and testing and constantly changing direction (weeks when you could be making money).

Very nice, then, of Kam Jennings to do all that work for you and provide a full training course on how to use the free tools he has used and how to build professional funnels with them.

For just a few bucks, Kam's course explains everything. I have been through this and can honestly say that, if I had seen this back when I got started, I would have been in the money months earlier than I was.

>> Click here to see more (and my bonuses) <<

Like this? Share it with others...