Just a warning. As I write this I may get a bit heated and I will hold nothing back….So if you can't take an F-bomb you had better fuck off now in case you get offended….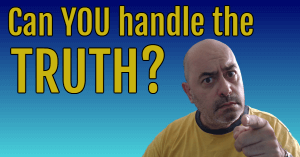 It's been a while since I have posted. I was on holiday for about 5 weeks. Apart from keeping up with any support requests and sending a few emails (maybe about an hour or so a week), I did nothing. Yet my Paypal and Stripe accounts kept replenishing. Not as much as when I am actively engaging but pretty nice all the same.
What bugs me is that many people will look at that statement and say, in a self-pitying way, "Well….That's OK for you! You have a list of subscribers. You have a customer list! I don't!"
You know what? I wasn't born with a list or a customer base. There are no online marketers who inherited a list from their parents as far as I know.
Bottom line….You have to grow a set of balls, find your balls and put your best ball forward!
You have to provide value and solve problems. The more value you add and the better you can solve real problems… the bigger your list, your customer base and your engagement will become.
It is as simple as that. The more buy buttons you have live, the more money you will make. The more points of entry to your funnels you have, the more money you will make.
The truth is, most people try to over-complicate it. When that happens it generally means that nothing gets done. Over analysis leads to paralysis (as I used to train business owners back in the day).
You have to filter out the noise and fucking concentrate…. Concentrate on what will make you money. Not on whatever shiny pile of JVZoo buy buttoned, WP plug-in shit some circle jerk affiliate is telling you will instantly transform your life. Fucking Concentrate!
So what if you are brand new, have no audience and no "authority" and have never made a saleable product before? How do you put your best ball forward?
The good news is you can cut a few corners and borrow some authority from others.
I did that myself earlier in the summer. I was able to make over $450 in just 24 hours from a $37 investment in sub-niche I am not an expert in…and it only took about 4 hours of copy/pasting work to set it up.
I decided to record a case study of what I did and how I put it together and where I got the idea from…
The case study is free of charge.
>> Get it HERE
No more excuses. That's the truth.
Like this? Share it with others...