It's that time of year again and, unless you dominate the beachball or mankini niches, you may well be taking a seasonal dip.
And I don't mean a dip in the warm, fishy-filled ocean. In common with most online marketers you will probably see a dip in email opens, email link clicks, blog visitors, opt-ins, and sales.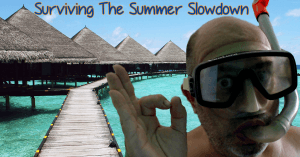 This makes sense because a lot of the people you are engaging with are off on their holibobs (USA translation: *vacation) . They are at a beach, in a bar, on a lake, in a caravan, in a tent or, in some cases, mostly under water.  Others  may be under the influence of cold beer. For two whole weeks.
So what can you do to prevent the "summer slowdown" impacting your business?
Here are few practical tips that anyone can do.
Be consistent
Don't give up on your audience. Continue to send your newsletters and make your blog posts. It is unlikely that everyone will be away at the same time and even if people are on vacation, if you send something interesting enough, they will take a look.
People may actually have more time to engage on social media whilst on holiday. After all they need to post photos of every glass of beer, cocktail and evening meal  so, whilst in Facebook, they may browse and read more than they do when they are at work all day. So make sure you are active on Facebook and Twitter.
If you are on vacation
Remember...you are supposed to be on vacation so think ahead!
Schedule a couple of blog posts and a few Facebook posts before you go.
Also, it would be a good idea to create a couple of mini email campaigns as well. Then you are putting your content out without having to stop looking at the topless man or lady next to you on the beach.
Oh..and before you even think about forming a family human pyramid on the beach...there may well be an email from me to read first...