If you receive emails from me you may have noticed that, when there is a "big" launch happening, I am often curiously silent.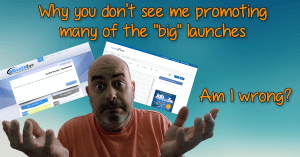 In this blog post I would like to explain why that is, let you know what criteria I currently use to decide whether to promote a new product and ask you whether you think I am wrong.
I would welcome your views on this and will ask you to comment later.
First of all, let's examine why certain marketers – even some "famous" ones – promote virtually everything that they see regardless of the quality of the product….
They are part of a "JV" cartel who blindly agree to promote each others products "sight unseen"

They figure that some people on their lists will buy anyway so why not through their link?

They have been taught to do this and they don't know any different
I have seen people sending mails recently about products that don't actually work, software that has not even had an alpha phase let alone a beta phase, training that could be taught with a couple of sentences but is spun out into 8 videos…all manner of complete rubbish.
Now, I am not talking about "newbie" affiliate marketers here. Some of these people are very well known. They make a ton of money from their lists so, it does seem to work.
There are other products getting a lot of promotion that are just "me too" products – one launched recently that is like a "lite" version of several good products already out there….But it's selling shedloads because of all of the affiliate back-scratching bullshittery that goes on.
It's almost as if good products that are already out there just don't exist…people will only promote new shiny products. But that is a whole other rant.
Here are the things that I look for when presented with new products to promote…
It has to fill a genuine need or solve a particular real problem. What I mean by that is that it will either automate something that saves time and/or removes a skill factor, makes you more money, teaches you how to make more money, saves you money, or does something that, hitherto, was achievable without outsourcing to an expert. In short, by getting the product you will be genuinely empowered to make more from your online business, in one way or another.

Whatever it is, it has to bloody well work

I need to get review access to personally check it out

It needs to be evergreen – so it won't just disappear from sale at the end of the week

There are other things too – I won't send to a sales page with an exit splash, for example.
So, by being this picky, you don't see me promote stuff that you get a lot of other mails about. In fact, at the time of writing, the last "big" launch product that I promoted was almost a month ago (Convertri).
Now, I am sure that there are people in my audience who buy these products anyway, whether I mail about them or not. So am I wrong by not informing people that they are available? I am probably leaving a load of money on the table and, after all,  I am in business here…
Should I refine my criteria for picking products to promote? Should I dump a shitload of PLR products as bonuses for everything I mail about (something else that big affiliates tell me works but I don't tend to like doing)?
Here's the big question for ya…..Am I thinking too much about my own integrity and not enough about what my audience really wants?
Let me know your opinions…Have your say…comment below and share this post so we get more viewpoints.
[/wr_text][/wr_column][/wr_row]
Like this? Share it with others...