Sometimes, it my business, strange co-incidences happen...and they usually follow a very similar pattern.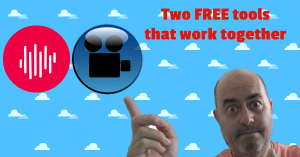 I happen to come across a new tool that impresses me and, just out of the ether, along comes something else awesome that works with the first find.
Some new age chaps would have me believe that it is some attractive vibrations happening throughout the universe that cause these things. Others say that it is some deity taking a little bit of time off from inflicting plagues and droughts to help me in my business.
I don't subscribe to either. I see it as a happy co-incidence. And this one is especially happy.
You see, using both of these free tools will enable you to create something extraordinary.
What if I told you you could create a video (screen capture or a "to camera" video or a mixture) with one click of a button in your Chrome browser (no software needed) and then have a music track - the exact length of your video - composed especially for you in less than a minute - for free?
I also show you a third free tool that puts the video and the music together!
Watch the video to see more.