No, I haven't been listening to voices in my head, abducted by aliens or caught religion.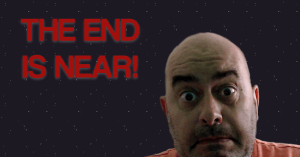 But we know that all good things come to an end.
Soon (we don't know exactly when, but very soon) the current "pilot programme" for Thrivecart will end and it will be officially launched.
When that happens, people will have to pay a monthly fee to use it (just like all the other professional shopping cart solutions out there).
Here is what appeared from the CEO, Josh Bartlett, in the Thrivecart Facebook group a few days ago….
"I will be removing the current lifetime offer pricing soon.
I don't have an exact deadline right now, but we are getting close to…
A – Launching a range of new updates (more on that soon)
B – Stopping people getting ThriveCart access for a 'lifetime' deal.
I'm proud of this community and think we have a lot of great, smart people who contribute in a valuable way to the community…
But it's time to switch the 'one time' pricing off soon.
Not only is ThriveCart (and the work put into it every day by the entire team) worth easily at least 10x more… (as a minimum) but I wanted to keep this pilot program special open while we released a range of features that were on my original roadmap, and that's nearing completion soon."
The features he is talking about include an in-built dunning service, fully functioned physical product ordering systems and more.
These will add to the impressive architecture of this platform that is already ahead of the field in many areas.
So, if you want to get full access to this platform with a single, one time price (like I did 2 years ago), the time to act is now.
>> Here is a link to the "lifetime" offer
This contains tools that will help you grow your business. Don't miss out.
Like this? Share it with others...