If you are into selling physical products online, you probably use a platform to act as your shopping cart.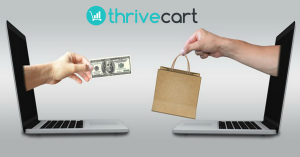 That platform is probably cutting into your profits which, on smaller items or free + shipping items can already be rather small.
Thrivecart has changed the game yet again with the roll out of their physical products capability. This update happened a couple of days ago and is phase 1 of physical product support which will be enhanced over the coming weeks with extra functions and integrations.
Already, though, it is pretty bloody powerful.
This update will be a game changer for those already involved with selling dropshipped products and products that they ship themselves. It may also prove to be something that encourages the "digital only" brigade to dip their feet into a very lucrative market.
Rather than writing the longest blog post in recent history, I felt it easier if I take you into my account and show you what is there already (remember – more being added soon).
If you have not got your own ThriveCart license, you can get a lifetime account through this special link
* If you see that the lifetime deal has gone when you click this, Thrivecart is still massive value if it is a monthly paid service
Like this? Share it with others...