Well, what a week I have had!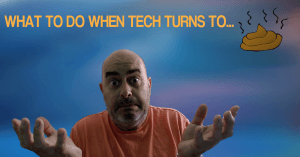 You know how it seems that more celebrities died in 2016? Well I have had a week when it seems that more tech problems seem have slapped me in the face than normal. I have had big, embarrassing "moments" this week all due to one thing… the internet and the tools we use on it not being perfect.
Let me give you a run through….
On Wednesday, Andy Brocklehurst and I had scheduled a live webinar where we planned to share some valuable information and not have anything to buy on the call. We had spent quite a few hours on the content, deciding how we could best explain the things we wanted to impart.
The hour arrived and, about 1 minute into the live event, with almost 70 attendees in the room, the webinar platform we use decided to have a fainting fit. It collapsed completely. I could only respond through the chat so I quickly made a new webinar room for the following day at the same time and pasted the link in there.
So, Thursday – same time, same channel, we tried for a second time. Almost all of the attendees from the day before had showed up again (thank you, btw, for your patience if you were amongst this number).
All was fine until Andy lost all audio. No-one could hear hi. So I took over and had to bring Andy back in later. Then Chrome crashed on my computer and I was out of the webinar – bit of a problem as I was the host. But it continued without me (I could only communicate through chat) until Andy lost audio again.
Now, if all that wasn't bad enough…On Friday I wanted to promote Edmud Loh's Zap Funnels product. Just after my mail went out, JVZoo was down – it was having a DDoS attack.
As it was a good product and I got emails from people who wanted to get it but couldn't I checked on Saturday to see if JVZoo was up – and it was – so I sent another email saying that the link was now working. Just as the email hit inboxes, it went down again.
So, how do I feel about all of this?
Well, I am sorry that webinar attendees who gave up their time to be there  had a bad experience and I a sorry that people who wanted to grab Edmud's product couldn't.
But the thing to realise is that the net is not perfect. Sometimes things will happen that are totally beyond your control and stuff will turn to s***.
The secret is not getting stressed out about it.
Five years ago I would have been very stressed.  These days, I actually expect to have the occasional tech nightmare so when they happen, I immediately start finding a route around, over or through the roadblock.
That is exactly the attitude that I want you to have. Don't let the occasional glitch derail you.  They are out of your control…Work through them.[/wr_text][/wr_column][/wr_row]
Like this? Share it with others...