Now, before I begin, the product I was having a play with is not new. It was released 2 or 3 years ago but it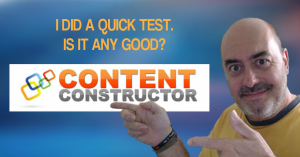 only came onto my radar recently.
I had a quick look at the video on the sales page and decided I would buy it and give it a test.
I wanted to see if it made creating good quality content easier than all of the alternatives out there.
We all have a steady need for quality content. We have choices about how we go about creating it.
Here are the ways that people normally create new content…
We can start with a blank Word doc and write an article (having done all of the research first)
We can outsource and find someone good to research and write (usually about $70+ for a good 500 word article)
We can get hold of some really shit PLR articles and completely re-write them
I am not even going to go into spinning as it often takes as long to do that than it does to do a manual re-write.
So, what did I do?
Stage 1 – 15 minutes
First, I chose a subject (key word) for my article and plugged it into a desktop software (you can see a demo of the software in a minute – stick with me)
The software searched the web and brought back full sentences from content all over the net.
I chose which sentences  I wanted to use and then spent a few minutes tweaking them and doing a bit of a tidy up to make them more unique. I quickly added a couple of sentences to link sections together.
Then I wrote a short intro paragraph and an outro paragraph.
Job done. Took me a shade over 15 minutes to get an 500+ word article from scratch that is unique and 100% usable.
Stage 2 – 10 minutes
Next I decided to re-purpose the article as video content as well so I fired up Content Samurai and dropped the article in.
I spent about 5 minutes adding a comma/full stop here and there , swapping a couple of images and changing a word here and there (swapping "video" for "article, for example).
Then I chose one of the built in "robot voices" that are bloody good in Content Samurai (I stuck with the background music that Content Samurai had auto suggested) and I hit "render".
So within 30 minutes I had TWO usable bits of unique content.
Here they are:
[ez_box title="Article" color="grey"]
In this article, I will be looking at the basic thinking behind what is know in marketing terms as an "online sales funnel", what a sales funnel is and how it can multiply your online income.
By definition, a sales funnel is the ideal process that your customers go through as they move from being someone who could potentially be a customer to becoming an actual customer.
Even if we look at a simple example, sales funnels can increase your income online just by automating your business. You don't have to be there for each step. The funnel is doing the work for you.
In the modern world of online business, newsletter automation and sales funnels have emerged as popular marketing techniques for building up your level of trust and establishing yourself as an authority. The power of a well thought out sales funnel is massive.
While sales funnels are the backbone of a digital marketing campaign, they can also feel messy and complicated.
Although, in reality, sales funnels are simple in theory.
A prospect joins your email newsletter, usually with the "sweetner" of a free welcome gift that is highly attractive. This gift may be a report or video that solves a particular problem that is common in the niche. It may be a trial version of a software.
Whatever it is, it should be sufficient to entice someone to join your newsletter campaign.
Then automated content-rich emails can be sent to the prospect that do two things; establish your authority in the niche and soft-sell a low cost product. This is called the "tripwire" product as it is priced very low, offers high value and is pretty irresistable for people in that niche.
By purchasing the tripwire product, the lead becomes a customer and has proven two things; they have a credit card or paypal account and they are willing to invest in themselves if they are presented with the right opportunity.
The next stage would be to nurture that customer, building the "know, like and trust" factors so that they will consider investing into your core product.
That is a simple example of a sales funnel using basic automation but there are many techniques, layers and marketing tools that can be added in to make them more effective.
At the end of the day, they only need to be as simple or complicated as needed to get sales. Remember, a sales funnel is basically a series of steps designed to guide visitors towards a buying decision.
Then, it is a question of testing, tweaking and refining.
Like anything, learning how to properly and successfully execute winning online sales funnels will take time and effort.
A deeper understanding of sales funnels will help you effectively optimize landing pages, sales pages, email marketing campaigns, and Facebook ads.
I hope that this brief article has cleared up any confusion and busted some jargon about sales funnels. If you want to learn a lot more on this subject, there is a superb online course for beginners that walks you through each step.
here is a link so you can check it out [LINK]
[/ez_box]
And here is the video that Content Samurai spat out…
Not bad for half an hour!
So, here's where to get the software:
First Content Constructor that I used to make the article. 
Now, thinking outside the box for a moment, this could be used to create just video scripts,  content-rich emails, social media content…all sorts of things.
You can see a full demo by clicking the button and I also have a discount coupon for the software through this link…

Next, you can get a 7 day free trial of Content Samurai through this link:

This is a pretty powerful combo if you want to populate a niche blog, get authority-building emails written and populate a linked YouTube channel for traffic back to the blog.
Like this? Share it with others...