It's that time of year! Fun, fun, fun!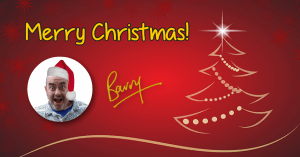 Also it's a time when most of us can step out of the hustle of our professional lives for a few days and that gives us pause to reflect on where we are, what we have achieved and what we want to achieve.

It is no co-incidence that most goal setting happens between Christmas and New Year and, of course, this manifests itself in "New Year Resolutions".

I am not immune to this and, at some point during "Die Hard", "Love Actually" or "National Lampoons Christmas Vacation" my mind will wonder back to ideas, plans and tests. It's OK, the rest of the family will be asleep in their chairs and snoring.

I usually put my thoughts into a product in the New Year called "Focus" and this year I will do the same. It will be a live webinar that you can be on for free but made immediately into a paid product afterwards (so be there!).

I will be going through some things I see happened in 2017, some of the trends I see worth exploring, some of the things I will be concentrating on (and why) and some of the more viable models that are still applicable in 2018.

Watch out for a mail about that in early January.

Did you know that I have a Christmas competition running right now with Andy Brocklehurst?

There is a prize pool of over $5000 and you can win something very valuable for your business going into 2018.
Enter for FREE here

Now, before you get lost in the festive season (either spiritually or after a more secular fashion), I want to just sprinkle some festive coupons in here for discounts that will expire on Boxing Day (26th) at around 11am.

1.The Rodgers Report.
This is my private monthly newsletter that I launched back in November. each month you get a plethora of articles which detail different online business models that WORK, case studies, tests and ideas, tips and techniques. Not all of the methods will ring your solstice bell but…If just one does, it could be life-changing.
You can get over a third off the yearly price by clicking here

2.My 1 Week Troubleshooter Email Consultancy. This is a new service that is designed to help people over hurdles they come across in their online businesses. You may not need a full blown coaching commitment. You may not have the cash to invest in the high ticket programs out there. But you still need help.

I can "parachute in" to your business and focus in on getting round your roadblocks.

You can see more details here (but don't order from that page)
You get 15% discount (and on the bump as well) here

NOTE: If you order, your week will start on 8th January

3.Tony Shepherd – Build A Responsive List. In this 47 page training , Tony Shepherd shows you how, if you do what he did, you may never stress about making money again. All of his experience and tips from over 10 years of listbuilding and email marketing are distilled into this.
Get a big discount here

OK.. All that remains is for me to do is to thank you for your support and business through 2017 and  to wish you and your family a very Merry Christmas and a wonderfully prosperous New Year!


Like this? Share it with others...