My goodness… Happy GDPR day!
I woke up this morning in the EU half expecting to find that the internet had disappeared.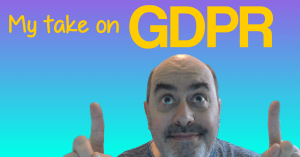 I have not been very vocal about GDPR.  But a lot of other folks are either getting their panties in a bunch or are trying to suck some money out of you to make you "compliant in a click" or whatever they promise on the sales page.
I had no plans to join in the cacophony of GDPR noise but I have been asked by a number of people so I figured I needed to make a comment.
By the way… Nothing here should be construed as legal advice. I am not a lawyer and, if you want to find out exactly what your business needs to do to be GDPR compliant then you should do your own due dilligance and/or contact a legal professional for their opinion.
I decided to make a video of a few GDPR ramblings…

So, there we are. Congrats if you managed to stay awake until the end.
Please add your comments and feel free to share this on soshul meeja
Like this? Share it with others...