I mentioned in an email I sent out the other day that I was going to talk about a product, which really has changed the way in which I do business is made my business more frictionless.
I get fewer support tickets has made my life so much easier over the last 18 months. And, you know, you kind of take it for granted once you are using a tool like this, that everybody probably knows exactly how good it is themselves. But I see a lot of people posting about this tool and there's a lot of misconceptions out there about it. There are a lot of people that may be looked at it when it first came out, 18 months ago, and decided against getting it then because it was a bit rough around the edges when it first started but things have moved on tremendously since then, and it is now a particularly fantastic piece of software.
So, what am I talking about here?
Well, the problem I had was always with membership sites. Now, I'm not talking about simply protecting a download page. I've got a plugin called WP Rapid Protect that will protect any page or post on a WordPress site so if I've got something that I don't want to get into the wrong hands, but doesn't need the overkill of a big membership site with login details and everything else, I can simply use WP Rapid Protect. However, A lot of my business models really rely on a more premium membership experience.
It gives a more premium experience to your customers, and also makes it harder for those things to end up on black hat sites. Also I wanted a way that, if people refunded or stop paying their monthly commissions, it would automatically restrict their access to the content. I didn't want to have people having my content for free. You know, put a lot of work and effort into my stuff. I didn't really want them to stop paying or to get refund and still have access to my hard work. I don't feel that's fair. Some people aren't bothered about this but I've got a big sense of justice and I'm not comfortable with it so I wanted something that would restrict access. Up until this product came along, I was using various WordPress plugins to create membership sites.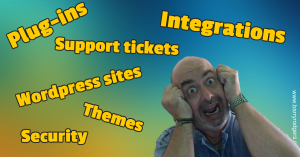 There are a lot of good plugins out there that do the job. However, they don't all do a complete job. For example, some of them would integrate with JVZoo and Warriorplus but not Clickbank other ones would integrate with Clickbank but not Warriorplus, so that the integrations were all different – not one of them have a full range of integrations. It also differed in what you could do with the plugin. Could you drip content? Could you log in as a member to make sure that they were getting the correct access levels? There's loads of differences between each of the plugins and you kind of had to look at the product that you were wanting to deliver, look at how you wanted it to be delivered and then choose of one of maybe three or four different plugins that most fit the criteria that you wanted.
I've been in a position where I've got a product, and I wanted to deliver it in a certain way. Let's say drip fed , but I also wanted it to be available on Clickbank, and none of the plugins I had did both of those things in the way I wanted them to do it. So, there was always this mixing and matching, and always trying to find a solution. And it just it saps your energy after a while.
Now, the other thing was that I ended up having multiple WordPress sites. I set up a new product and the first thing I would do is install a WordPress site, and put the plugin that most approximated what I wanted it to do on to that site. And I ended up with WordPress sites all over the place and that's a pain in the ass too. Firstly, to manage them all and update them all and keep them all hacker free. And secondly, you have to log into each one of them to do anything – to look at the members, to solve problems, to change content and all of that. So it was a real pain, having all these things in different places on my hosting.

So, when ProductDyno came along, 17 or 18 months ago, it was kind of like a breath of fresh air… but I almost missed it because I had previously tried using something called Memberhub (I think it's called Everlesson now), and it ended up being a complete disaster. It was so complex, it wasn't user friendly at all. And so, when ProductDyno came along, not long after I thought (wrongly as it turned out) I've tried this, I don't want to go through it all again.
But something persuaded me to actually decide to take a gamble on it and I ended up buying it. And let me tell you, it was a bit rough around the edges of the beginning,  but what I saw in it was a place where I could store all of my membership sites I could set them all up in in one place, all of the content can be delivered from one place. I could set up products or collections and it would simply work.
The integrations that they had right from the start were really, really good. It integrated with virtually everything right from day one So, there was a system that I could literally use for any membership site pretty much any of the WordPress membership sites that I had previously, all in one place. So for that reason, it made my life a lot lot simpler. Now, over the course of the last 18 months have been a lot of developments with the product. It's got better and better. And that's really the reason why I'm doing these blog posts – to really show how it has come on in leaps and bounds. So if you didn't get on board with ProductDyno before, it may be after seeing these posts, you'll see how much sense it makes to have a central hub with this amount of power and integration from which you can deliver any digital product at any time.
And I'm telling you, your support tickets will go down and down and down. I used to be on support every day with people with issues with with WordPress membership sites – people couldn't get access people couldn't do this and couldn't do that. It was constant!
Now, my support time is absolutely minimal. And that's all due to ProductDyno. It's really been a great boost to me, productivity-wise and delivery-wise and the great thing is at the same time it's offering a really great experience for my customers. It is is frictionless for my customers.
It's not perfect, there's nothing out there that is perfect and very occasionally a glitch happens, but it's very, very occasionally and 90% of the time it is because a welcome email has gone to spam (this even happens to Sendgrid and Postmark occasionally). So, over the next couple of days I'm going to go into some of the things that I see people posting out there in different groups about ProductDyno. Many people have misconceptions and I want to clear some of those up. And in doing so, hopefully, you'll get to see what a fantastic product is as well.
Now, the other reason I'm doing this at the moment is I noticed there is a very special deal on with ProductDyno at the moment. First of all, you can get a yearly license for that for it and a half price, with a load load of bonuses and extras thrown in which really is a bargain. But also, as one of the upsells from that, you can actually grab a lifetime license as well.
I wanted to let you know about this and to bring you up to date with ProductDyno because, if you see something that you could use and was a good fit for your business, then you can take advantage of those deals. Tomorrow I'm going to have a look at one of the big misconceptions of ProductDyno Please look out for the blog post and, if you have anything you want me to cover, add a comment below.
You can get the special half price deal on ProductDyno by entering the coupon code: EXPERT on the checkout page. Click the button to get to the sales page…

Like this? Share it with others...