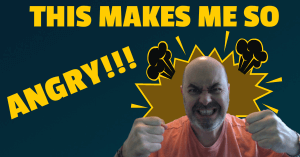 I know, I know… I should just take a chill pill and let this kind of thing just wash over me but I do get annoyed at how unprofessional people can be in this Internet Marketing space.
People seem to be going out of their way to appear amateurish and are demonstrate a scant attention to detail.
Now I know I am not perfect and I sometimes make mistakes. Thankfully, I usually spot them before they become embarrassing. Some people, though, seem to just pile silly on top of silly.
And it does them no favours.
This is a wake up call…If you are doing this, pull your socks up for heaven's sake!
Have a look at this video to see what I mean.
Like this? Share it with others...