Let's face it…Everyone needs traffic. Sometimes you can get some "organic" traffic from Google and other search engines but, boy, you have to work for it or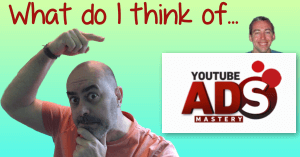 spend a lot of time & cash getting that "free" traffic.
Or, you can buy traffic. Charles Kirkland always used to ask the question "Who are your best friends when getting traffic?" The answer, of course,  is Visa and Mastercard.
Want your video to be right at the top of the YouTube search results every time for a chosen keyword? If you give YouTube a bit of money then they can make that happen.
But, if you are like me, advertising on You Tube was always big mystery….
Was it a waste of time?
Was it something that would just suck money out of my wallet?
Why do I see ads for big-budget brands that are unrelated to me?
So, before we get to my review video, take a look at this video by Adam Payne explaining why advertising on You Tube is a good idea…
https://youtu.be/cryNLXnFr7U
Click Here To Get YouTube Ads Mastery
Like this? Share it with others...