Following an email I sent about how I was using these three software tools together to rapidly create and re-purpose content, many people asked for a more detailed description.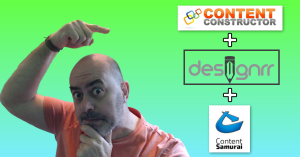 On this page, you will see a video of how I created some content using Content Constructor and then re-purposed it using Content Samurai and Designrr.
Basically, it allowed me to create a blog post, a pdf that can be used as a lead magnet and a professional video in just a few clicks
I will also put some ideas below as to what you can do with this re-purposed content and how it can enhance your brand, drive traffic and make you more sales.
But first, here is the video of me creating & re-purposing…
Results:
The article that was made with the help of Content Constructor can be seen here
The pdf is here
The video is here…
OK, a couple of things about that video…
1. I could have voiced it myself. Content Samurai makes that very easy as you just read out a sentence at a time and it automatically synchs the slides to your sentences.
2. I could have chosen from about 10 other "voices" with various accents
3. I could have "interrupted" the video halfway through and used it as a teaser to get people to go to the blog post.
4. Below the video wherever it is hosted (You Tube, Vimeo etc, I could drop 3 links – one to the product mentioned at the end, one to the pdf download and one to the blog post.
Here are just a few things you can do using these tools…
1. Quickly write new, unique articles getting help & inspiration from sentences in other content.
2. Re-purpose any text content into a pdf and a video in just a few clicks (without having to do any voiceovers)
3. Use Designrr to capture and save articles or Facebook posts that you want to keep for future reference (especially when offline) – Yours or other people's.
4. Use Content Samurai to re-purpose PLR ebooks into video courses in a few minutes
5. Get subscribers on your blog by offering a pdf download (made using Designrr) for lengthy blog posts
6. Drive traffic and backlinks to your sites by uploading the blog post pdfs to sites like Slideshare, Issuu, SpeakerDeck etc.
7. Create a pdf made up of multiple blog posts of yours that can be sold as a book (this is golden!)
8. Create a monthly round up pdf of posts you made on your Facebook page – add some links and offer it as a monthly download
9. Create short, attractive social media videos to get cheap "video view" audiences for advertising to.
10. Make a pdf and videos for an email sequence. This can be a great OTO upsell when people subscribe to an email series that is a tutorial. "For $7, you can get this all at once in pdf & videos!"
11. Drop your sales page copy into Content Samurai and easily create a Video Sales Letter for the top of your sales page.
These are just a few ways that this collection of tools could be used in your business to create products out of thin air, drive traffic and promote your brand. a bit of thought and I am sure you could come up with many more.
It's all about using these tools to automate and scale. they are so simple to use, you could have some V.A.s just turning out content for you. You could even sell that content as PLR as well if you wanted!
Here is where you can get these tools…



It should be noted that the discounts and one-timepayment offers were available at the time of writing this post. As they are third party products, I can't guarantee that you will get the same deal when you are reading this.
Also, these products are all great on their own. If you only need one, it would be silly to get all three.
Hope this helps you create unique content quickly.
Like this? Share it with others...